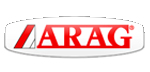 Arag is now worldwide recognized as the main reference point in the spraying accessories field and in the precision farming area.
Arag\'s catalog boasts more than 4500 items and offers a complete choice without equal in the agricultural market.
The direct cooperation with all the worldwide leading Crop Sprayers Manufacturers, makes Arag the first player designing and producing the most complete range of components existing in the spraying accessories scenario.
Within Arag\'s main designed solutions, a key rule is represented by GPS and computers monitoring systems, nozzles, lids, valves, filters and much more.
The high sensitivity toward the market needs plus the customers oriented approach, allowed Arag to develop its wide sales network in over 110 countries all over the world. Available in India through MOTIgarden.
Visit Website